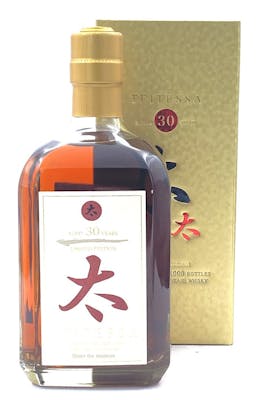 SKU: 4982831150207
Teitessa Single Grain Japanese Whisky Limited Edition 30 year old
---
$299.99
Save $60.00 (20%)
$239.99
---
Iconic Spirits was launched by co-founders Taichi Seki and Julious Grant. Seki is the CEO with plenty of experience working for Asahi Beer with a background in economics, law, and martial arts, having spent 10 years as a professional kickboxer and MMA fighter. Grant is a veteran in building brands in the wine and spirits industry for the global market, having worked at Beam Suntory, Bacardi, and Moet-Hennessy, among others. Iconic Spirits focuses on bringing high-quality Japanese spirits that are crafted and bottled in the Land of the Rising Sun to the global market.
The Fuji Takasago Sake Brewery found its current home in the Miyazaki Prefecture of Japan at the foot of the Mt. Fuji volcano in 1831. Founded by Shokichi Yamanaka and his Brew Master, the sake brewery relies on the super-pure water that is naturally filtered through the volcanic rock of Mt. Fuji. The pristine spring water attracts many other brewers and serves as a crucial ingredient for their whisky production as well.
Teitessa 30 Year Old is a limited-edition Japanese single grain whisky. The oldest of the Teitessa offerings, it was matured in a combination of 3 different barrels: Spanish oak, American white oak, and Rothan oak. The 80-proof spirit is mellow and refreshing with deep tannin and woody notes as well as a pleasant sweetness.
Get your bottle of this Japanese whisky today!