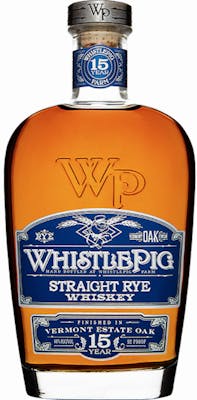 SKU: 85146000236
WhistlePig Straight Rye Whiskey 15 year old
---
---
Within this bottle is the culmination of years of patience - a liquid chosen from our finest stocks to be aged for more than a decade. The first WhistlePig product aged in Vermont Estate Oak harvested right from our farm. It is our oldest whiskey. The harsh winters and short growing seasons in Vermont bestow a tight grain pattern upon our trees. Kentucky oak trees are fat. Vermont ones are tight. Tight wood delivers more flavor and depth. The new Vermont Oak barrels receive a long toast and heavy char designed to draw out a rich sweetness to complement the natural spice of aged rye. The final product mixes rye spice with wood sugar, earthy oakiness and lush citrus notes, all wrapped in a velvety smoothness unique to the finest aged spirits. This Rye has been waiting for 15 years to reach your lips, and time is something that no amount of money can buy.
This remarkably complex sipper leads with caramel and vanilla, then reverberates with rounded dried fruit, sherry and almond, fading into a long, gentle baking spice finish. Made with 100% rye sourced from Canada, this is finished in barrels made from Vermont oak and bottled in Vermont.

Are you 21 years old, or older?