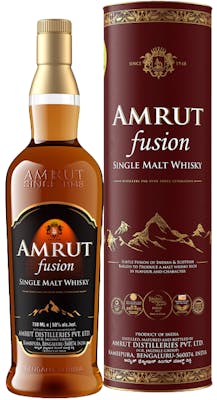 SKU: 836202000384
Amrut Fusion Single Malt Whisky
---
---
Golden Yellow color. The nose is heavy, thickly oaked and complex: some curious barley-sugar notes here shrouded in soft smoke. Big, but seductively gentle, too. The delivery, though controlled at first, is massive! Then more like con-fusion as that smoke on the nose turns into warming, full blown peat, but it far from gets its own way as a vague sherry trifle note (curious, seeing how there are no sherry butts involved) - the custard presumably is oaky vanilla - hammers home that barley - fruitiness to make for a bit of a free-for-all; but for extra food measure the flavours develop into a really intense chocolate fudge middle which absolutely resonates through the palate. The finish is a slight struggle here as the mouthfeel gets a bit puffy here with the dry peat and oak; enough molassed sweetness to see the malt through to a satisfying end, though. Above all the spices, rather than lying down and accepting their fate, rise up and usher this extraordinary whisky to its exit.
This Indian single malt is so named because it's made with "a fusion of Indian and Scottish barley." The aroma is deliciously fresh, suggesting crisp apple slices. It's silky on the palate, showing plenty of caramel followed by a billow of peat smoke. It finishes dry, with an intriguing mix of cigar tobacco, leather, Baker's chocolate, bitter orange peel and spice. At 100 proof, it's predictably hot; be prepared to dilute it to taste.

Are you 21 years old, or older?