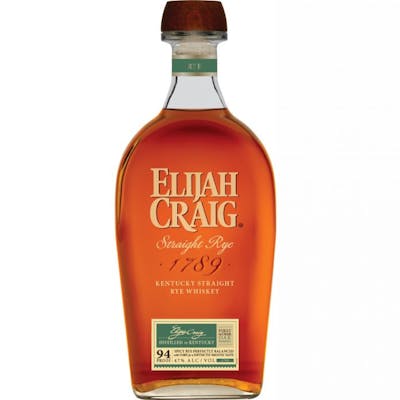 SKU: 096749002733
Elijah Craig Kentucky Straight Rye Whiskey
---
---
Elijah Craig Rye originates from Heaven Hill's 51% rye mashbill, which also includes Pikesville Rye and Rittenhouse Rye brands. This mashbill is often referred to as a "barely legal rye" mashbill as it contains the bare minimum 51% rye required by law. Barely legal ryes are produced by numerous distilleries, and often contain a high percentage of corn as the secondary grain. In this case, the combination of 51% rye and 35% corn is arguably not far off from a bourbon that could legally contain 51% corn and 35% rye, or some higher proportion of rye if malted barley was reduced.
As a result of its relatively low rye, high corn content, the flavor profile of Elijah Craig Rye is quite similar to what might be expected from a bourbon (though, notably, it lacks the oak forwardness of its bourbon counterpart, Elijah Craig Small Batch Bourbon). If poured blind, I think few would be able to confidently identify it as a rye versus a bourbon. But this is merely an observation, and surely the end result Heaven Hill is going for. Utilizing their existing rye mashbill, they were able to simply change up the target flavor profile from some of their existing brands. And while Elijah Craig Rye will certainly be a crowd pleaser, it offers only a slight variation from other ryes in the marketplace.

Are you 21 years old, or older?