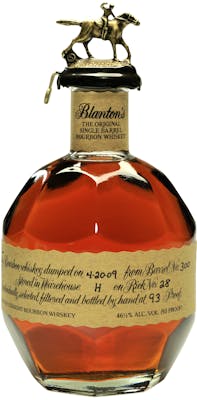 SKU: 080244002039
Blanton's Original Single Barrel Bourbon Whiskey
---
---
Taken from the center-cut or middle sections of the famous Warehouse H, Blanton's Original Single Barrel was once designated for ambassadors, dignitaries, and Colonel Blanton's family and friends. Today, everyone has access to the world's first single barrel bourbon. The taste profile is sweet, with notes of citrus and oak. The creamy vanilla nose is teased with caramel and butterscotch, all underscored by familiar baking spices such as clove, nutmeg, or cinnamon. Blanton's Original set the standard for single barrel bourbons in 1984. Best served neat or on the rocks.
Bold and well structured, this Bourbon features warming vanilla and caramel accented by orange peel, stone fruit and a dry baking-spice finish. Sip it with a chunk of ice, or mix up a round of juleps. The trademark round, faceted bottle with the horse-topped cork is perfect for Derby Day.

Are you 21 years old, or older?