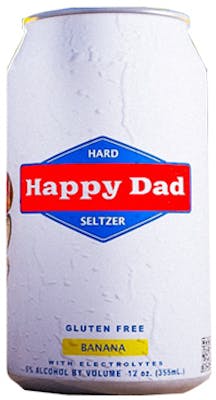 SKU: 084173940011
Happy Dad Hard Seltzer Banana
---
---
Happy Dad Hard Seltzer has released a new limited edition Banana flavor today. Happy Dad will be the first Hard Seltzer brand to release an NFT (Non-Fungible Token) based product to retail stores. The packaging includes the most popular NFT to date, a Bored Ape, from the Bored Ape Yacht Club collection.
Happy Dad Banana will be available in a 12-can pack with only 10,000 cases (20,000 12-packs) in the market. The number 10,000 coincides with the NFT community, as a majority of NFT collections sell only 10,000 NFTs. This is a limited release and will not be produced again.
12 pk

Are you 21 years old, or older?