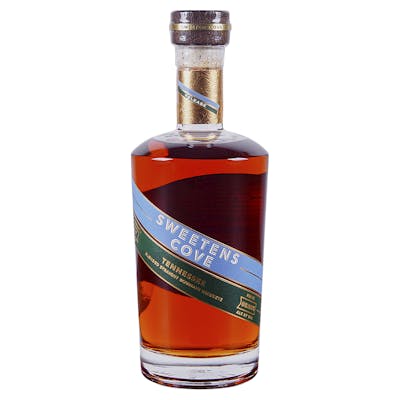 SKU: 860003041758
Sweetens Cove Spirits Company blended straight bourbon whiskey
---
---
Tasting Notes: 2021 Sweetens Cove Tennessee Bourbon
Vital stats: A blend of Tennessee bourbons aged 4, 6, and 16 years; 113.7 proof;
Appearance: In the bottle, it's a ruddy gold but in the glass it's more greenish gold, like it has a patina. Glossy in the glass, nice legs. It's also the same color as one of my favorite kombuchas: the Ginger Lemonade one from Costco. Don't judge.
Nose: It is subtle. It does not bash you over the head with heady fragrances. Which is fine. It's introverted; I get that. Brown sugar, browned butter, butterscotch, a just-scraped vanilla bean pod. Red currants. Later sniffs bring new-mown grass and a faint smell of drying paint of a color you really wanted to paint a room and are totally excited about how it's going to look.

Are you 21 years old, or older?